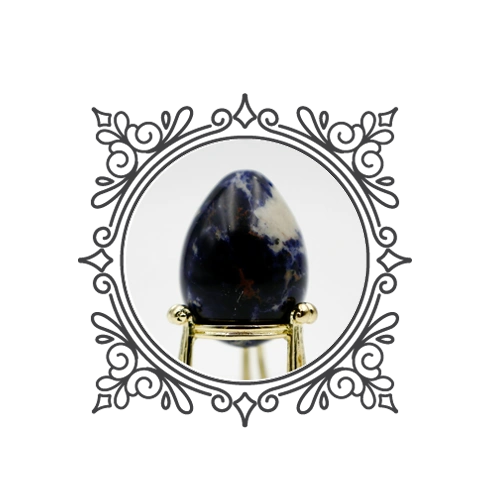 (This Large is bigger then the large in the small sets)
-Drilled
-Comes with organic cotton string.The string gives an added benefit of being able to tug on the egg for stimulation, exercises, and easy removal. "Yoni Tug of war "
Size 45×35
Zodiac Sign: Sagittarius, Libra
Planet: Venus
Sodalite is a stone that is good for healing breaches in communication. It is a stone of truth, and brings this to all communications. It is called a Poet's Stone. It can help end arguments or other disagreements. It is particularly useful for honesty of emotions and love. It increases intelligence, knowledge and learning, and can unite the logical with the spiritual. Physically it is said in folklore and crystal healing to be beneficial for the glands, diabetes, digestive system, lymphatic cancer, relieving insomnia, and decreasing calcium deficiency. It is also used in crystal healing for quicker relief  of head colds.
Comes with an Organic cotton string.
Please pick the right shipping method for your country or your purchase will not be shipped.
Your egg should be thoroughly washed with a natural liquid soap after each use and left to dry in an open environment (not in a box, yoni bag, or panty draw) . Some people boil their egg for 3 minutes before use and after as well. I was told this is ok and it keeps the egg extra clean.
Cotton string:  You can change the string every 2-3 weeks or throw away after each session. The cotton string is perfect for vaginal weight lifting because its stronger.
Hemp string:  Not reusable. For extra healing purposes only. Throw away after each session.
Silicone string: Great for everyday use. Easier to clean and it last longer. Completely toxic free
Dental Floss: Not reusable. Must be thrown away after each session
I recommend having all 3 strings!
I don't recommend the yoni eggs with the beads connected to the string because it makes it hard for you change and clean.