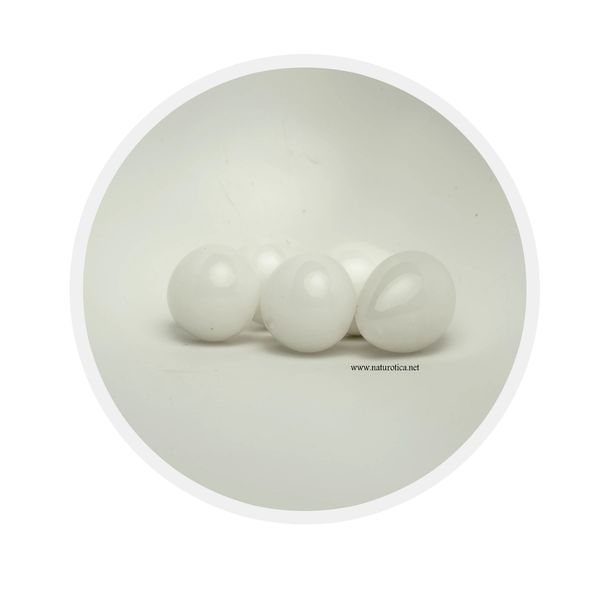 -Drilled
-Comes with organic cotton string.The string gives an added benefit of being able to tug on the egg for stimulation, exercises, and easy removal. "Yoni Tug of war "
Size 35x25
Jade is a special gemstone of healing and stability. It relieves anxiety and lightens emotions developed from fear. This stone is one of the many gemstones, which never allow any negative energy or negative influences to affect the individual wearing it. It does not allow the entry of any external negative vibration. It simply protects people from getting disturbed by negative influences as it continues to emit cleansing and calming aura. Jade can also establish a closer connection between the different stages of the intellectual part of the body. Hence, it improves the mental capacity of a person. The ancient people from the East have known all the healing properties of Jade for hundreds of years.
Light shades of white and cream jade stones are best for Capricorn, Cancer, and Virgo.
White Jade helps in concentration and clears the thoughts. It empowers all senses and let us contact with the spiritual world and our inner self. It helps us to express our love to somebody and opens all channels so that we get response. It keeps good energy close. It brings calmness, wisdom and peaceful sleep with good dreams.
Comes with an Organic cotton string
Please pick the right shipping method for your country or your purchase will not be shipped.
Your egg should be thoroughly washed with a natural liquid soap after each use and left to dry in an open environment (not in a box, yoni bag, or panty draw) . Some people boil their egg or 3-10 minutes before use and after as well. I was told this is ok and it keeps the egg extra clean.
Cotton string: You can change the string every 2-3 weeks or after each session. The cotton string is perfect for vaginal weight lifting because its stronger.
Hemp string: Not reusable. For extra healing purposes only. Throw away after each session.
Silicone string: Great for everyday use. Easier to clean and it last longer. Completely toxic free
Dental Floss: Not reusable. Must be thrown away after each session
I recommend having all 3 strings!
I don't recommend the yoni eggs with the beads connected to the string because it makes it hard for you change and clean.