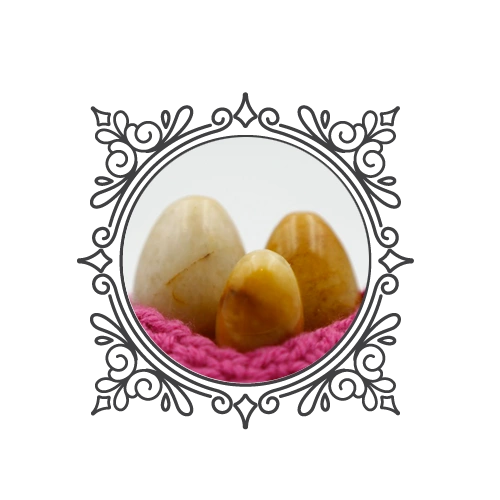 All 3 eggs are not sold together. This allows you to mix and match the sizes and gemstones as you like. Click the size dropdown menu and pick the size you want from the set.

-Drilled
Large 45x30mm
Medium 40x25mm
Small 30x20mm
Zodiac: Leo
Chakra: solar plexus 
A strong protection gemstone, jasper sustains and supports during times of stress. Jasper is one of the oldest known gemstones. It is mentioned in the Bible several times. Jasper is a strong securing gemstone. It is a stability gemstone. It is a powerful protection against things that are not good for you and it eases emotional stresses, making it a wonderful gemstone to have in your home.
Yellow Jasper offers protection during spiritual work and physical travel. It channels positive energy. It stimulates the solar plexus chakra.
Healing properties of Jasper
Jasper comes in many colors. All colors of Jasper will help balance the vibrations of the body. Jasper is slow to show a change to the person, but is such a basic "good" stone that one should always have it on hand.
Yellow Jasper releases toxins and helps with digestion in the stomach. ~https://crystal-cure.com/jasper-yellow.html
Wear yellow gemstones when you want:
Clarity for decision-making, enhance decision making skills

relief from 'burnout', panic, nervousness, exhaustion

sharper memory and concentration skills

protection from lethargy and depression during dull weather

promote the ability to express yourself

stimulate movement and mental awareness