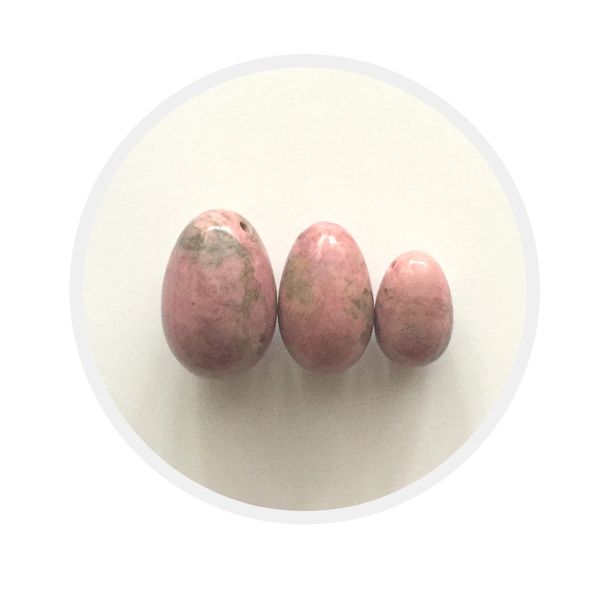 All 3 eggs are not sold together. This allows you to mix and match the sizes and gemstones as you like. Click the size dropdown menu and pick the size you want from the set.

-Drilled
Large 45x30mm
Medium 40x25mm
Small 30x20mm
Chakras - Heart Chakra
Zodiac - Taurus


ABUSE RECOVERY

"Compassion, Forgiveness and Release of Fear
Rhodonite crystals are known for their capacity to bring emotional healing and to release blocked energy from within the heart chakra.
They have a strong heart based energy, that has a useful healing vibration to help with relationship problems.
By its action to stimulate acceptance, forgiveness and unconditional love towards others, it helps to bring peace to troubled relationships.
These stones are an excellent balancer of the emotions, and during traumatic times, this stone can be used to calm you.
Having a piece on your body, may help to stop you from taking action when you are feeling angry, fearful and panicky when traumatic events are unfolding in your life.
The energy of this stone also helps you to discover innate talents that you may not have been aware of, and work out the best way to utilize them.
Use them in meditation to help you to discover where your destiny lies
Rhodonite is not only helpful within the emotional body, for healing shock and soothing tension and stress. Keep a piece of this stone on your body, as this is one of the ways to relieve stress, and it also has many other good healing attributes within the physical body.
<!-- start: shared_blocks.182799370#Adsense 160 x 600 Left Aligned -->

This stone is helpful to aid healing of the endocrine system, which is made up of a number of glands that produce hormones that are responsible for your body working properly.

By bringing life force energy into the physical body, this will aid all of these areas to function better.
These stones will help the immune system to function better, by stimulating and strengthening the glandular system.
They are said to be a good treatment to use for aiding arthritis sufferers, and to help inflammation within the joints.
They are also helpful to assist the healing of throat infections and lung problems including emphysema.
They will aid the liver to carry out detoxification, assist ulcers to heal, as well as aiding the healing of health issues such as kidney or gallstones, which can be assisted by having this stone on your body.
". ~ Read more at http://www.healing-crystals-for-you.com/rhodonite.html