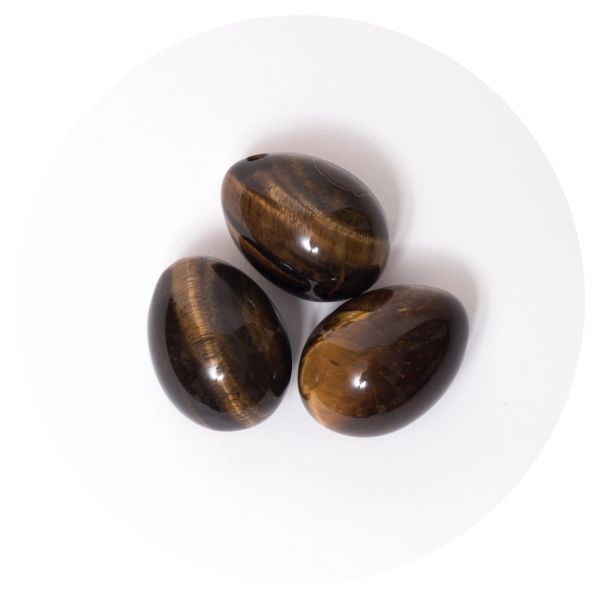 -Drilled
-Comes with organic cotton string.The string gives an added benefit of being able to tug on the egg for stimulation, exercises, and easy removal. "Yoni Tug of war "
Large 35×25
Chakras - Sacral Chakra, Solar Plexus Chakra
Zodiac - Capricorn, Gemini
Planet – Sun
Element – Fire, Earth
             
"A stone of protection, Tiger Eye may also bring good luck to the wearer.  It has the power to focus the mind, promoting mental clarity, assisting us to resolve problems objectively and unclouded by emotions.  Particularly useful for healing psychosomatic illnesses, dispelling fear and anxiety.  Useful for recognising one's own needs in relation to the needs of others.  Balancing yin-yang and energising the emotional body, Tiger Eye stabilises mood swings, imbues us with willpower, purpose, courage and self-confidence, and releases tension.
Tiger Eye treats eyes, throat and reproductive organs, releases toxins, alleviates pain and is helpful in repairing broken bones and strengthening the alignment of the spinal column." http://www.charmsoflight.com/tiger-eye-healing-properties.html

.
Your egg should be thoroughly washed with a natural liquid soap after each use and left to dry in an open environment (not in a box, yoni bag, or panty draw) . Some people boil their egg or 3-10 minutes before use and after as well. I was told this is ok and it keeps the egg extra clean.
Cotton string: You can change the string every 2-3 weeks or after each session. The cotton string is perfect for vaginal weight lifting because its stronger.
Hemp string: Not reusable. For extra healing purposes only. Throw away after each session.
Silicone string: Great for everyday use. Easier to clean and it last longer. Completely toxic free
Dental Floss: Not reusable. Must be thrown away after each session
I recommend having all 3 strings!
I don't recommend the yoni eggs with the beads connected to the string because it makes it hard for you change and clean.