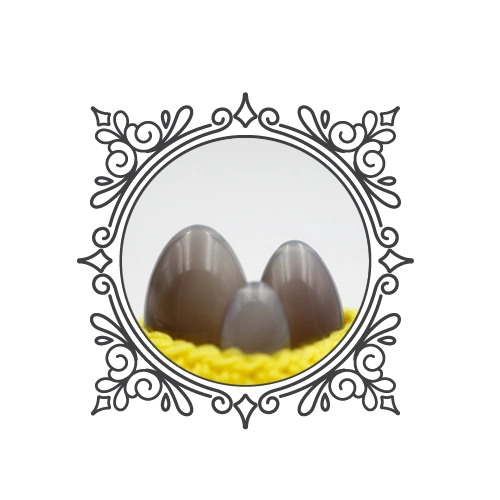 All 3 eggs are not sold together. This allows you to mix and match the sizes and gemstones as you like. Click the size dropdown menu and pick the size you want from the set.

-Drilled
Large 45x30mm
Medium 40x25mm
Small 30x20mm
Zodiac: Virgo, Gemini
"All  agates can remove blockages from any chakra. 
Agate enhances love, abundance, wealth, good luck, longevity, harmony; protector of children. Ground to the earth. One of the oldest stones in recorded history, it belongs to the variegated chalcedony group. Helps to change our level of perception; give wearer the strength to carry on."
"• Gray Agate is a grounding stone
• Harmonizes yin and yang energy
• Works slowly but brings great strengths
• Aids in seeking hidden truths
• Useful for any kind of emotional trauma
Gray Agate is a grounding stone, bringing about an emotional, physical and intellectual balance. They aid in centering and stabilizing physical energy. Gray Agate has the power to harmonize yin and yang, the positive and negative forces that hold the universe in place. It works slowly but brings great strength. Its multiple layers can bring hidden information to light.
Psychologically, Gray Agate gently facilitates acceptance of one's self, building self-confidence. It also aids self-analysis and perception of hidden circumstances. Gray Agate enhances mental function as it improves concentration, perception and analytical abilities, leading to practical solutions.
Emotionally, it overcomes negativity and bitterness of the heart. It heals inner anger, fostering love and the courage to start again. It is useful for any kind of emotional trauma. It creates a sense of safety and security by dissolving internal tension.
Spiritually, Gray Agate encourages quiet contemplation and assimilation of life experiences, leading to spiritual growth and inner stability. " ~ http://ornateoriental.blogspot.com/2012/12/gray-agate-gemstone-properties.html