Dalmation Jasper Small Set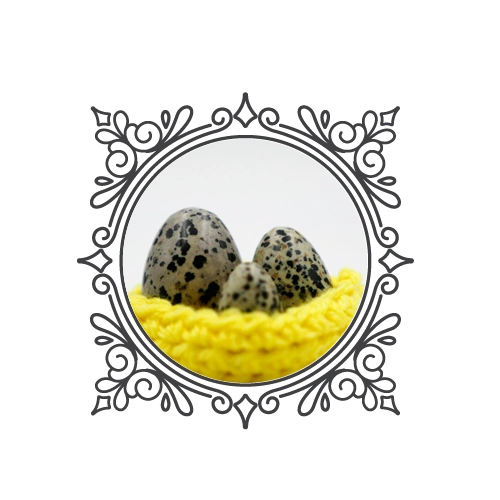 All 3 eggs are not sold together. This allows you to mix and match the sizes and gemstones as you like. Click the size dropdown menu and pick the size you want from the set.

-Drilled
Large 45x30mm
Medium 40x25mm
Small 30x20mm
Zodiac: Virgo
"Dalmation Jasper is also known as Dalmation Stone. This is a stone that aids you to break down barriers that you have created as protection around yourself.
It may also relieve the need to take revenge on anyone who you feel has done you wrong... as its vibration helps you to release any lack of trust in other people.
This allows you to move forward in life and discover your true purpose for being here. Its energy brings childlike joy and a sense of playfulness into your life.
The black spots are Black Tourmaline... and so it also embodies the energy of this stone, and will aid you with spiritual grounding and psychic protection.
This stone has a lovely energy that reminds you that you can enjoy life... that its okay to have fun. The black spots of Tourmaline within it bring through an energy that encourages positive attitudes, good luck and happiness, irrespective of the conditions of your life.
It reduces any sense of discouragement and helps you to release the things you have outgrown... while simultaneously making you feel more enheartened. Dalmation Jasper will inspire faith and devotion towards others... especially those that you have close relationships with.
It gives you stamina to do what needs to be done, and helps you to take it easy when you are free to do so. It is an excellent stone to assist you to sleep well... free from nightmares. This is because the spots of Black Tourmaline in the stone will suck up any negativity or disharmony that it finds in the surroundings. But it does not absorb it... but will convert the negativity into positive energy... allowing an excellent effect on your well-being.
This interesting stone will open the sacral chakra, base chakra and earth chakra... and has a strong grounding vibration. Dalmation Stone helps you to let go of old thought patterns and old ways of looking at the world.
As you find new ways of acting and of living your life, it allows you to step forward and find your real purpose in being here.
The vibration of Dalmation Jasper will help you to have more faith and trust in others... and to let go of guilt.
It has an excellent effect on your mood and is a stone that aids you to feel better about life.
The joy and child-like feelings that it brings bring an improvement in your overall emotional state. The spots of Black Tourmaline make this a strong stone for psychic protection... and it is said to alert you when danger is near."
~http://www.healing-crystals-for-you.com/dalmation-jasper.html